Dangerously Misleading Brake Lights Act Possessed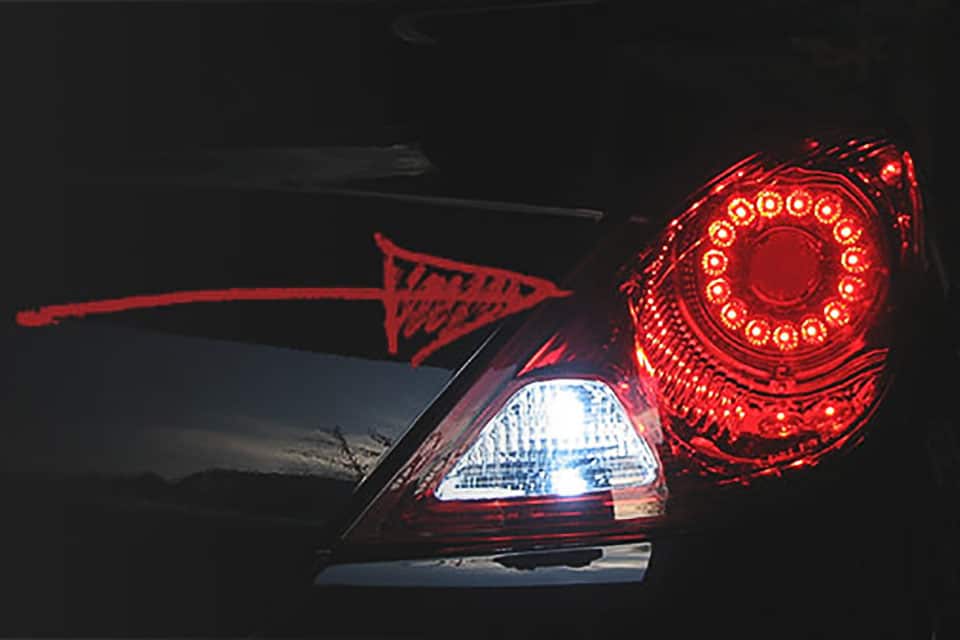 Think of how brake lights are supposed to work -- then reverse it. The brake lights turn on when you're cruising and turn off when you actually stop the car. That's the simplest way to describe this extremely dangerous problem.
The real reason this is happening has to do with voltage fluctuations in the brake apply sensor circuit. The fluctuations create erorrs in the circuit that can cause problems with the brake lights, cruise control, traction control, electronic stability control (sensing a control theme here?) and panic braking assist operation.
The problem is known to have caused thousands of complaints and at least 13 accidents.
An Investigation Leads to a GM Recall ∞
2014 was the "year of the recall", especially for General Motors. Thankfully this dangerous issue was covered in May 2015 as part of a recall of 2.7 million vehicles for various problems. Here's a timeline of how an investigation led to a recall:
Generations Where This Problem Has Been Reported
This problem has popped up in the following Pontiac generations.

Most years within a generation share the same parts and manufacturing process. You can also expect them to share the same problems. So while it may not be a problem in every year yet, it's worth looking out for.
Further Reading
A timeline of stories related to this problem. We try to boil these stories down to the most important bits so you can quickly see where things stand. Interested in getting these stories in an email? Signup for free email alerts for your vehicle over at CarComplaints.com.
Back

in June, 2013, the National Highway Traffic Safety Administration (NHTSA) opened an investigation into the possessed brakes of the Pontiac G6. Basically, the brake lights would come on when they shouldn't and not work when they should. It was a mess -- not to mention pretty darn confusing to anyone following one of these cars down the road.

NHTSA concluded that "increased resistance in the body control module connection was resulting in voltage fluctuations in the brake apply sensor circuit". Bottom line, the wiring was fubar and the problem was much wider-reaching than just the brake lights of the Pontiac G6. In fact, the cruise control, traction control, electronic stability control and basically any other kind of control could be messed up in millions of GM vehicles.

Thankfully, GM is bringing in 2.4 million vehicles to address the faulty wiring harness. Maybe it has something to do with safety being at the heart of what they do now, but I'm guessing they're just [tired of being sued][20]. Either way, the recalled vehicles include:

There is no schedule for when the recall will begin, but concerned owners can contact Chevy at 800-222-1020, Pontiac at 800-762-2737, or Saturn at 800-553-6000. GM's number for this recall is 13036. In the meantime, maybe you should brush up on your hand signals?

keep reading
OK, Now What?
Maybe you've experienced this problem. Maybe you're concerned you will soon. Whatever the reason, here's a handful of things you can do to make sure it gets the attention it deserves.
File Your Complaint

CarComplaints.com is a free site dedicated to uncovering problem trends and informing owners about potential issues with their cars. Major class action law firms use this data when researching cases.

Add a Complaint

Notify CAS

The Center for Auto Safety (CAS) is a pro-consumer organization that researches auto safety issues & often compels the US government to do the right thing through lobbying & lawsuits.

Notify The CAS

Report a Safety Concern

The National Highway Traffic Safety Administration (NHTSA) is the US agency with the authority to conduct vehicle defect investigations & force recalls. Their focus is on safety-related issues.

Report to NHTSA